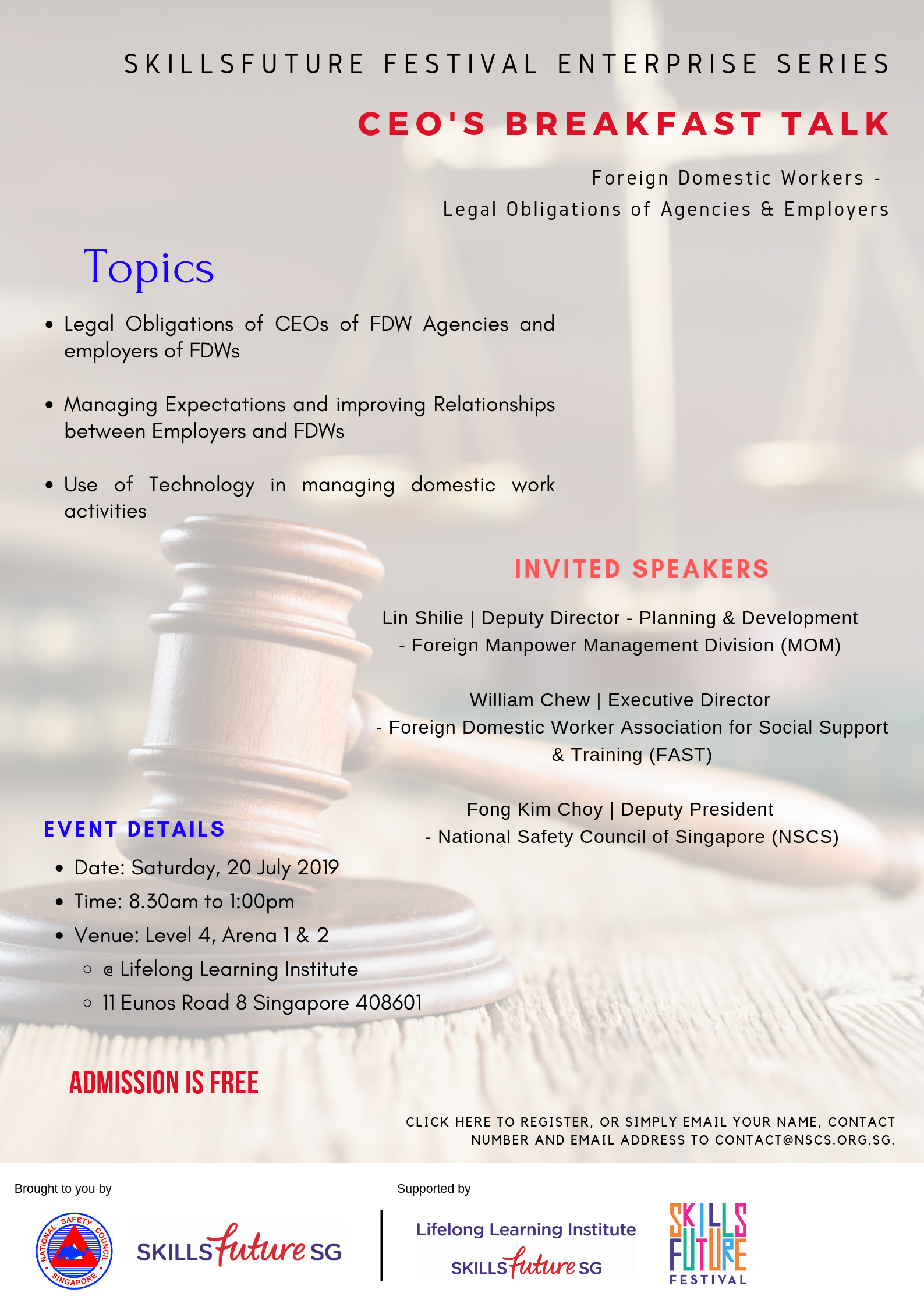 CEO Breakfast Talk – Roles & Responsibility for FDW
Talk for Employers of Foreign Domestic Workers (FDW) – Roles and Responsibilities
As part of Skills Future Festival 2019, the National Safety Council of Singapore (NSCS), in partnership with Lifelong Learning Institute (LLI) is organising a seminar on topics relating to the engagement of Foreign Domestic Workers (FDW) in Singapore.
Key speakers from Ministry of Manpower (MOM) and Foreign Domestic Workers Association for Social Support and Training (FAST).
Chief Executive Officers and bosses of domestic human resource agencies and employers of domestic services will better understand their due diligence, role and key responsibilities as stakeholders in this area of professional domestic services.
Employers or bosses will be more assured of their responsibilities and obligations, Work Passes and Offences under EFMA. Employers will be more aware of how to impart the very important competencies in the area of domestic activity safety, food, hygiene, slips, trips and falls management and fire and electrical safety.
Prevention is better than cure as the saying goes. Prevention management is therefore a key takeaway for in minimising food poisoning, injuries due to poor housekeeping, unseen hazards like electrical hazards and fire prevention. Technology can also be employed to manage, supervise and monitor effectively domestic work activities.
Learn about …
Stakeholder (FDW Agency Owners, KAH License Holders, Employers of FDW) roles and responsibilities towards the engagement of FDW
Managing expectation and working relationship
Understanding the due diligence process with regards to Work Passes and Offences under EFMA.
Details of the Seminar
Saturday, 20 July 2019 8:30am to 1:00pm
Lifelong Learning Institute
(Adjacent to Paya Lebar MRT)
Admission is Free
Enquiries to contact@nscs.org.sg