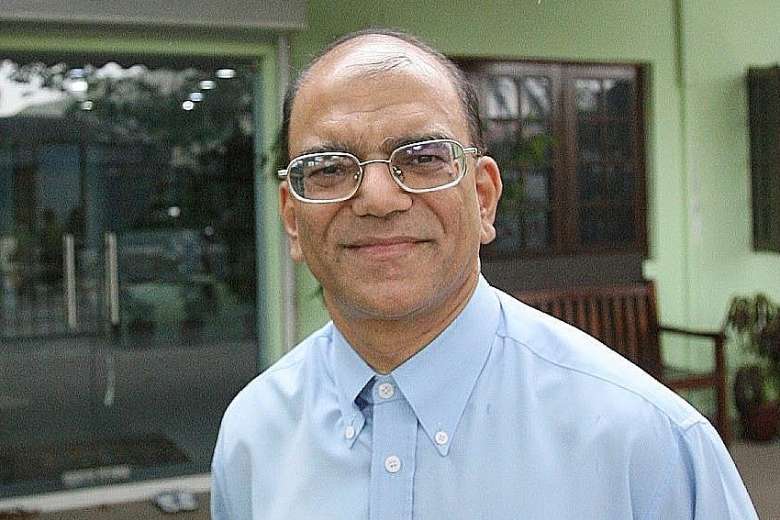 Pioneer Award Mr. Ameerali Abdeali July 2016 (Speech)

AMEERALI ABDEALI WAS RECOGNIZED BY THE MINISTRY OF MANPOWER FOR HIS PIONEERING CONTRIBUTIONS TO THE DEVELOPMENT OF OCCUPATIONAL SAFETY AND HEALTH IN SINGAPORE.

THE AWARD CEREMONY WAS HELD ON 27 JULY 2016 AT THE MARINA BAY SANDS GRAND BALLROOM.

Below is the write up for Mr. Ameerali's journey entitled "Championing Safety with his Mind, Heart and Soul"

For Mr. Ameerali Abdeali, enjoying one's retirement years does not mean slowing down. More than a decade after retiring from his post as Deputy Director, OSH Division at the Ministry of Manpower (MOM), the eloquent, sharp-witted gentleman remains heavily involved in his community, always ready to lend a helping hand or a listening ear to those in need. The spirit of public service that distinguishes his career continues to shine as he balances his time between various causes close to his heart, from mediating at the Family Court and   fostering interfaith dialogue to providing support to kidney patients and the less fortunate members of our community.

Yet, for Mr. Ameerali no single cause resonates as deeply as that of workplace safety. For this former civil servant, championing safety is more than a job, it is a calling. This steadfast dedication was cemented early on in his career. He had witnessed firsthand how workplace accidents can tear workers away from their loved ones, or diminish a bright future.

One memorable highlight of his career happened in 1978, when Mr. Ameerali had the opportunity to serve as Secretary of the Committee of Inquiry which inquired into the Spyros  disaster that claimed the lives of 76 workers with many others suffering serious injury.

"I remember Spyros vividly" recalled Mr Ameerali "Mr. Low Wong Fook, then Chief Inspector of Factories  called me and said, 'Ameer, let's go!' A team of us went there to Jurong Shipyard, and we saw the rescue in progress. "The scene was unforgettable and one has to be there to truly appreciate the devastating impact of accidents. "It was a wake-up call to industry to take safety seriously and it reinforced my commitment for safety," Mr Ameerali was determined then to dedicate his life to promoting safety and work together with like minded people to ensure that such tragedies never happen again.

These sobering encounters set him on a journey to make safety a top priority in workplaces. Said Mr Ameerali "We must never forget that victims of workplace accidents are human beings with hopes and aspirations who, as a result of accidents in the workplace, tragically lost their lives or ended up being permanently crippled or psychologically damaged.

Mr. Ameerali firmly believes that every effort must be made to prevent accidents in the workplace not just by the regulating authorities and employers but by every person at all levels of the workforce. "There is no room for complacency as far as safety is concerned" said this safety advocate "It is imperative to keep abreast with the fast pace of change taking place in industry which can introduce new hazards, so safety professionals must keep on learning so that the appropriate safety measures can be put in place proactively and not as a reaction to accidents."

This piece of wisdom was something Mr Ameerali picked up on his personal journey with MOM – a journey that spanned more than three decades. When he started out as a young Factory Inspector  in 1974, safety was still largely an afterthought in most industries. The government had to work hard to create awareness and enforce safety regulations in factories.

Gradually, as efforts to inculcate safety shifted from a prescriptive approach to one based on goal setting and the building of a strong culture, Mr Ameerali was put in charge of the Ministry's Occupational Safety and Health (Training and Promotion) Centre. (OSHTC)

As the General Manager of the OSHTC, Mr Ameerali became more sensitized to the importance of inculcating the fundamentals of safety among workers.

It was not a role he took lightly. "I took that as a very important responsibility and I personally inspected these classes to ensure that the instructors were imparting the right messages and spoke to the participants myself on the importance of observing safety rules and using the right personal protective equipment."

As his participation in WSH training and promotion increased, Mr Ameerali gained a deeper understanding on what it truly takes to build a deep-rooted safety culture. I was impressed by the motto "Leadership Saves Lives" which I saw when I gave a talk at a military base. Ultimately safety is about sincere and committed leadership. Said Mr Ameeral "If the top management merely provide lip service to safety and believe that accidents are inevitable then they need to have a change of mindset.  With the right mindset, they will be able to bring about a strong culture where everybody is serious about safety and will not only look after themselves but also look after one another."

Such precious insights are invaluable to Mr Ameerali, who looked back on his time with MOM with much satisfaction "I'll always value and cherish my 32 years there because it was a great environment where everybody was encouraged to learn and develop to one's full potential."

True to his words, 40 years on, safety remains a lifelong passion for Mr. Ameerali. He is currently the President of the National Safety Council of Singapore, and concurrently represents Singapore as the Chairman of the Asia Pacific Occupational Safety and Health Organisation (APOSHO). To this day he is regularly invited to deliver papers and present talks at workshops and conferences both locally and in the region, a duty that he is always happy to oblige.